---
Carol's rural Kentucky studio provides a comfortable and fitting backdrop for her characteristically peaceful landscapes. Because it's important to Carol to capture a subject's essence, along with the natural effects of color and light, much of her landscapes are created on location or done from field studies. As a result, her work reveals an unpretentious truth that allows the viewer a sense of belonging to the scene and owning that moment in time.

An undeniable natural ability, years of developing and honing her skills, plus a passion for painting have all contributed to Carol's well-developed style and notable success with her work. Watching an older sister sketch horses sparked Carol's early interest and curiosity in developing her talent. A natural progression ensued. Drawing developed into oil painting and then watercolors. Over the past decade Carol has studied oil and watercolor techniques with several nationally known artist, including Tony Couch, Robert Hoffman, Gerald Brommer, Dean Davis, Cheng Khee Chee, Joseph Fettingis, Charles Gruppe, Joseph Zbuckvic and Scott Christensen.

Carol takes an active roll in promoting art in her community. She provides personal leadership that encourages and supports individual artists.
Carol is a juried member of Oil Painters of America, Kentucky Arts Council's Visual Arts at the Market, and Central Kentucky Art Guild. Her work consistently is included in juried and invitational shows across the region. Many of her paintings hang in private collections throughout the United States, England, Spain, Italy and Australia.
---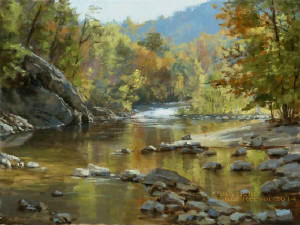 "Little River at Townsend, TN"
oil 18x24
Received Gold Medal Award
Oil Painters of America Eastern Regional Exhibition 2014
---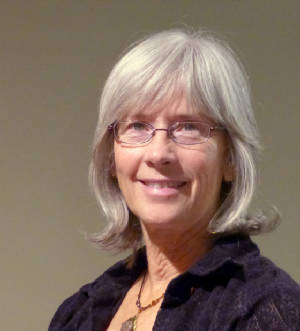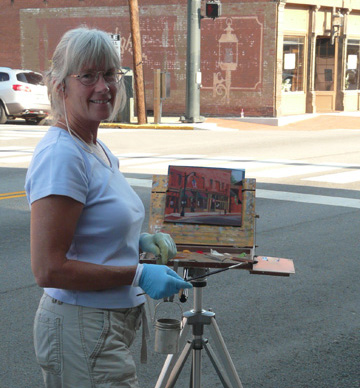 Carol plein air painting.
All images on this web site are original works of art created by Carol Reesor.


Images may appear different on your computer screen than actual artwork.